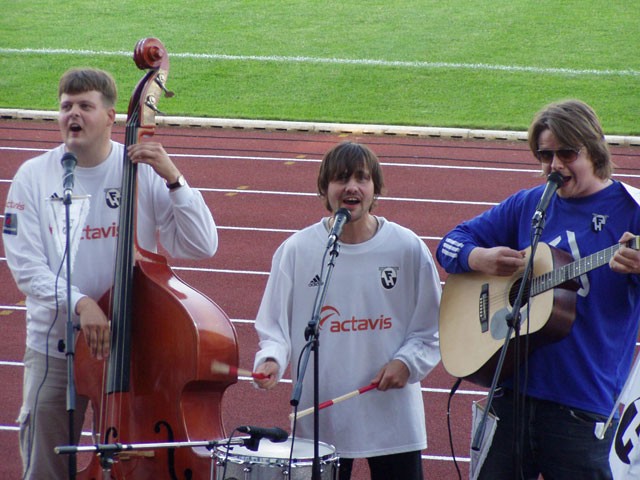 The Icelandic version of Oasis rip it up!

JUNE – As the dust settled over Calderwood's sudden departure to Aberdeen, the Pars began their search for a new manager. With the lure of European competition the Pars attract many interested candidates to the vacant position. The final shortlist includes Sandy Clark, ex-Spain manager Javier Clemente, Davie Hay, Steve McMahon and Stan Ternant. Ex-Livingston manager Davie Hay is the eventual successful candidate signing a two-year deal before bringing Livingston coaches Billy Kirkwood and Paul Hegarty to the club as his Assistant and First Team Coach respectively. Hay would later bring ex-Pars captain Craig Robertson to the club as Youth Coach. The Pars wave goodbye to Stevie Crawford (Plymouth) Lee Bullen (Sheff Wed) David Grondin (FC Brest) Sean Kilgannon (Ross County) and U19 captain Jamie Bishop (Arbroath). Rumours are rife that out-of-contract keepers Derek Stillie and Marco Ruitenbeek could yet return to the club, the former eventually does signing a three-year contract. The SPL 2004/05 fixture list pairs the Pars with Dundee Utd at home on the first day of the season. The home fixture up against Aberdeen on the third day of the season attracts the most interest however.

In Other News – The Euro 2004 Championships in Portugal kick off with unfancied Greece beating the hosts 2-1 in the opening fixture. England go on to lose sweetly to Portugal in the Q/Finals as Portuguese (and Scottish) hero Ricardo saves an English penalty before converting the winner, David Beckham sends his penalty high into the sky. Fights break out in the Big Brother 5 house as transsexual Nadia, body-builder Jason and a bald gay man called Marco (you couldn't make it up!) almost come to blows. Ex-US President Ronald Reagan dies.

Number Ones – "I DON'T WANNA KNOW" – Mario Winans feat P.Diddy. "EVERYTIME" – Britney Spears.

JULY – Starting at home before making the annual trip to Holland, the Pars begin the pre-season with four consecutive 1-1 draws against Clyde, Queen Of The South, Groningen and Heerenveen. A 0-0 draw with Heracles ends the month. After his release from First Division side St.Johnstone the Pars take ex-Celtic striker Simon Donnelly on trial before eventually signing the forward on a year-long deal. Although, the month of July will undoubtedly be remembered for the – albeit brief – arrival of Diego Maradona Jnr from Italian side Napoli. In what seemed like an outrageous publicity stunt, the son of the Argentine legend joined the Pars on a short-term trial basis surrounded by a mass media circus. Despite being offered a contract, the youngster decides against joining the Pars. Diego Jnr's arrival coincides with the arrival of 23 year-old Italian striker Emanuela Catania on trial; the Pars decide not to pursue their interest. With the month drawing to a close the Pars are drawn against Icelandic minnows FH Hafnarfjordur in the Second Qualifying Round of the UEFA Cup.

In Other News – Greece defeat Portugal 1-0 in the Euro 2004 final thanks to a Charisteas winner to clinch a sensational triumph. Roger Federer wins the Men's Wimbledon Championship at a canter whilst Russian stunner Maria Sharapova defeats US powerhouse Serena Williams in the Woman's final. The Darkness headline T in the Park after legend David Bowie pulls out due to illness. Faria Alam reveals to the papers that she has had an affair with FA Chief Exec Mark Palios and Sven Goran Eriksson. Unknown American Todd Hamilton wins The Open Championship at Royal Troon defeating Ernie Els by one shot in a play-off.

Number Ones – "OBVIOUSLY" – McFly. "BURN" – Usher. "LOLA'S THEME" – Shapshifters. "DRY YOUR EYES" – The Streets.

AUGUST – An extremely disappointing month starts, ironically, with an impressive 7-1 win over Dutch Third Division side Vogido ensuring an unbeaten pre-season for the Pars, Andy Tod weighing in with a hat-trick. The big man was to get in on the scoring act yet again in the opening fixture of the season against Dundee Utd. However, despite a Tod opener, Jim McIntyre grabs an equaliser for the Taysiders. A historic trip to Iceland followed days later as Pars players and fans alike descended on the Icelandic capital of Reykjavik After embarrassingly going two goals behind to the Icelanders the Pars stage a courageous fight back through goals from Craig Brewster and a last minute Skerla equaliser. Near embarrassment was to be followed by total embarrassment as the Pars went down 2-0 to newly promoted Caley Thistle only three days later at a scarcely populated Pittodrie. In keeping with the month's many disappointments, the much-publicised return of Jimmy C to East End results in a 1-0 loss for the Pars after a debatable Whelan effort. Much worse was to follow days later when the Pars crashed out of Europe in front of over 7000 fans at McDiarmid Park, losing 2-1 to Hafnarfjordur. The Pars are booed off by a shocked and embarrassed Pars support. Things weren't to get much better, the Pars losing 1-0 to Killie at Rugby Park three days later. Off the pitch Irish left-back Ritchie Byrne places a transfer request after turning down a new contract. The Pars would then turn down cheeky bids by Dons boss Calderwood for Byrne and Brewster. The former Pars boss would also receive various derogatory postcards from various Pars fans – including the famous "Fat Judas Tango Man" card – after the trip to Iceland in a month when Jimmy C was hardly out of the papers. On a much more positive note, promising youngsters Billy Mehmet and Aaron Labonte sign contract extensions keeping them at the Pars until 2007.

In Other News – The British team defy the odds to triumph in the Athens Olympics, coming home with 9 Gold's, 9 Silvers and 12 Bronze medals. Wayne Rooney admits to visiting various prostitutes including one granny named 'Auld Slapper'…nice! Portuguese transsexual Nadia shows balls (not literally) to win Big Brother 5. Flash floods in the English town of Boscastle causes havoc, destroying 50 cars and 6 buildings, fortunately no civilians are killed. Armed robbers steal the "Scream" painting from a museum in Oslo. Scotsport SPL – possibly the worst programme in the history of broadcasting – is launched on STV.

Number Ones – "THUNDERBIRDS/3AM" – Busted. "BABYCAKES" – 3 Of A Kind. "THESE WORDS" – Natasha Beadingfield.

SEPTEMBER – The Pars begin the month with a 1-1 home draw with Motherwell. After going ahead through a Brewster opener, the Pars sit back in the second-half before eventually conceding an equaliser through a Scott MacDonald wonder strike. The goals prompted angry cries from a handful of Pars supporters calling for Davie Hay's head. Eight days later the Pars would record their first victory of the campaign against a weakened Hearts side. A good performance is rewarded with a 1-0 victory thanks to an excellent Barry Nicholson strike. Three days later the Pars would gain their second consecutive victory, this time in the CIS Cup Third Round. An impressive 3-1 win thanks to a Craig Brewster opener and wonder goals from Scott Thomson and Noel Hunt books the Pars place in the CIS Cup Quarter Finals up against Hearts. The month ends with a disappointing 3-0 defeat at Celtic Park. Followed by just over 100 Pars fans, the Pars players seem bereft of belief up against the champions and were it not for some fabulous goalkeeping by Derek Stillie a heavier defeat would almost certainly have been on the cards. Ex-Sunderland winger Thomas Butler joins the Pars till January after impressing on trial. The Irishman makes a late debut as a substitute against Hearts at East End. Ex-Monaco striker Wagneau Eloi joins the Pars on trial but the Pars coaching staff decide against signing the player.

In Other News – Tragedy strikes yet again, this time in the Russian city of Beslan, as terrorists hold a siege at a local school. In a tragic turn of events 344 civilians are killed with many, many more injured. Footballing legend ex-Nottingham Forest ad Derby manager Brian Clough dies at the age of 69. A young European Ryder Cup side, captained by Bernhard Langer, emphatically destroys an experienced US side 18 and-a-half to 9 and-a-half to retain the Ryder Cup. Scot Colin Montgomerie memorably sinks the winning putt.

Number Ones – "MY PLACE" – Nelly. "REAL TO ME" – Bryan McFadden. "CALL ON ME" – Eric Prydz.

OCTOBER – Despite a fairly lacklustre performance against an impressive Hibs side the Pars manage to salvage a home point thanks to a late, late Simon Donnelly equaliser. The goal marks Donnelly's first for the club. The following week brings great disappointment however as the Pars travelling support see their team turn in arguably their poorest performance of the season against Livingston. In Davie Hay's return to his former club the Pars go down 2-0 marking a very poor result for Hay's side. What promised to be a truly dismal month however thankfully turns out to be a fairly decent month as the Pars players show tremendous battling qualities to drag themselves off the bottom of the league. Helped by some inept stewarding, a vocal Pars support spur their team onto a n excellent 2-1 win over Dundee at Dens Park thanks to goals from Scott Thomson and Derek Young either side of half-time. A midweek 2-1 East End Park loss to Rangers – courtesy of a mandatory Rangers penalty – comes before the Pars record their second Dundee win in the space of a week, with a 2-1 victory at Tannadice. After going behind to an early Utd penalty, the Pars equalise less than sixty seconds later through a Tod equaliser before Darren Young grabs an injury time winner, sending the Pars travelling support into raptures marking possibly the highlight of the Pars season so far. Off the pitch the Pars sign youngsters Stephen Bradley – from Arsenal – and Graeme Port – from Man Utd – after the young midfielders impressed on short-term trials.

In Other News – British man Ken Bigley is taken hostage and killed by Iraqi rebels. Veteran DJ John Peel dies at the age of 65. After a lacklustre performance Scotland lose 1-0 to Norway at Hampden before going on to gain an embarrassing 1-1 draw in Moldova. Hearts boss Craig Levein leaves the Tynecastle club to take over the reigns at English Championship side Leicester. Inverness manager and Hearts legend John Robertson is appointed Hearts boss.

Number Ones – "RADIO" – Robbie Williams. "CALL ON ME" – Eric Prydz.

NOVEMBER – A difficult month dogged by injury problems begins with the Pars dropping two points at home to a battling manager-less Caley Thistle. A Darren Young opener is cancelled out by a late Caley equaliser. The Pars drop out of the CIS Cup after a disappointing home performance against ex-Caley boss John Robertson's Hearts results in a 3-1 defeat. A handful of Pars fans travel north to witness the second Aberdeen encounter of the season with the Pars once again coming out second best to the ex-manager as the Pars go down 2-1. A late Simon Donnelly strike is scant consolation after the Pars had fallen behind to a Tod own goal and a Darren Mackie effort. Despite the disappointment of the Pittodrie defeat, an under-strength Pars side produce a superb performance to defeat Kilmarnock 4-1 at East End Park. Goals from Barry Nicholson, Billy Mehmet, Scott Wilson and Craig Brewster ensure an emphatic win for the Pars. However it is Brewster's goal which would undoubtedly provoke the most memories in the years to come as the big man scored with a cracking volley with his last ever touch for the Pars before leaving to take the reins at Inverness Caley Thistle. A 2-1 away defeat to Motherwell marks the end of a month which many Pars fans would rather forget. Barry Nicholson marks a return to the Scotland setup, making an appearance in Scotland's 4-1 Easter Road defeat to Sweden. Barry earns praise amongst the media and pundits alike for his performance despite the poor result. Loan striker Derek Lyle ends his loan spell with the Pars without making a single appearance before moving back to First Division side Queen Of The South. Young Pars striker Patrick Clarke joins Sandy Clark's Berwick Rangers side on loan. After his debut against Kilmarnock 17 year-old right-back Greig Ross becomes the youngest ever Pars player to make a Premier League appearance.

In Other News – US President George W Bush somehow defeats Democratic candidate John Kerry to win the American Election, gaining a second term in office…oh dear! Tory tosser Boris Johnson is sacked from his front bench role in the party after making disparaging remarks about the city of Liverpool. The Scotland rugby team produces battling performances against Australia in the Autumn tests (losing both) before recording a record win, 100-8, against a weakened Japan side. The month ends on a sour note for coach Matt Williams however, as Scotland are hammered 45-10 by South Africa.

Number Ones – "WONDERFUL" – Ja Rule feat R.Kelly/Ashanti. "JUST LOSE IT" – Eminem. "VERTIGO" – U2. "I'LL STAND BY YOU" – Girls Aloud.

DECEMBER – A very disappointing month for the Pars – one which sees the Pars win only one point from a possible twelve – kicks off with an awful display and result away at Tynecastle with the Pars losing 3-0 to a far superior Hearts side. Things are just as bad a week later when Martin O'Neill's Celtic side come calling, the Pars losing 2-0 despite a brave second-half performance. With Christmas fast approaching, festive cheer seems a way way off as the Pars agonisingly go down to a last minute goal at Easter Road after a good performance. A young Pars side – one which would end with three inexperienced teenagers on the pitch – battled back from a goal down through an Andy Tod equaliser only for the small Pars travelling support to see their team go down to an injury time Derek Riordan effort. With emotions running high, the year ends with a section of Pars supporters once again calling for Davie Hay's resignation as the Pars draw 0-0 with Livingston in a dismal, dire encounter. In a bid to improve the Pars striking problems the club take Danish striker Jesper Christiansen on trial before signing the big Dane on a month long deal. The Pars also manage to sign ex-Livingston midfielder Lee Makel after the Englishman struggles to settle after his summer move to Plymouth. Ex-Pars striking hero Stevie Crawford also admits his desire to return home to Scotland, something which alerts the Pars management team who attempt to secure the Scottish Internationalist's signature. Barry Nicholson adds to his international collection once more as he gains a 'B' International cap as the Future Squad go down 3-0 away to Germany. December signals a good month for the Pars youth squad however, as the Pars U19's reach the last eight of the Scottish Youth Cup. Pars U16's keeper Greg Paterson also makes his international debut for Scotland U16's in the Victory Shield against the 'Auld enemy'.

In Other News – A horrifying Tsunami causes devastation in South East Asia, killing over 150,000 and injuring and de-housing many more. A monumental relief effort gets under way to attempt to safeguard the survivors. Home Secretary David Blunkett resigns after allegations that he fast-tracked a VISA application. Partick legend John Lambie returns to take the reigns at the club once again – only for a short time mind – after the sacking of joint management team Derek Whyte and Gerry Britton.

Number Ones – "DO THEY KNOW IT'S CHRISTMAS?" – Band Aid 20.