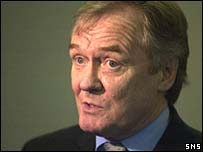 Hays says no to Eloi

Ex-Monaco appears not to be the solution to the Pars goalscoring problems after Davie Hay decided against signing the 31-year old striker.


After taking the player to East End Park on a two-day trial, Hay chose not to extend the striker's stay, citing the player's fitness as the problem.
Hay said "Time is of the essence and because he has not been involved with a team, he missed out on a daily training."
"It would be different if we were offering the player a long-term contract as you could take the player's fitness into account, but we have been looking at a short-term solution."
Just quite where Hay expects to find a fully-fit, unnattached player at this stage of the season is beyond me.
However, it has also emerged that the Pars look set to offer three other players - with French top-flight league experience - trials at East End in the coming weeks.
Chairman John Yorkston saying "Bringing another striker in will mean additional expenditure but we have external funding in place to meet that if required."
"We have Hunt and Mehmet who have both been given two or three games but the bottom line is they haven't hit the back of the net. Davie is convinced they are two good strikers, but how long do we wait?"
"Do we leave it until Christmas when we could be 10 or 12 points behing Inverness? We need to do something with the way our luck is going at the moment."
Not exactly a vote of confidence for the club's current strikers is it John?