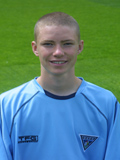 Patrick Clarke - Already on loan at Berwick
Sandy Clark's Berwick Rangers side should perhaps change their name from the 'wee Gers' to the 'wee Pars' after Craig McKeown joined the Second Division side on loan.
Young Pars centre-half McKeown joins loan striker Patrick Clarke and ex-Pars midfielder Mark McGarty at Berwick as Sandy Clark's new club fight for survival.
McKeown - considered to bve one of the Pars' brightest young talents - has performed very impressively for the Reserves this season and will no doubt greatly benefit with first-team football under his belt.