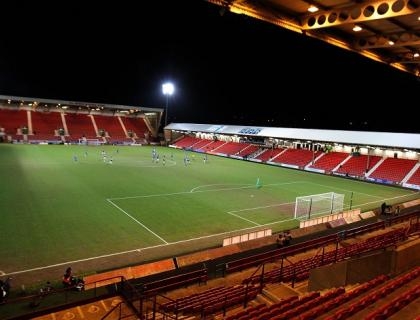 Experienced trouble-shooter Jackson, now in charge of the East End Park outfit's finances and operations, praised the under-fire business man, insisting the handover would make his job considerably easier.
The Irn-Bru First Division side were placed in interim administration last week after Her Majesty's Revenue and Customs lodged a winding-up order over a ?134,000 tax bill.
The administration process protects them from the taxman's attempts but Pars still owe around ?8.5million to Masterton and other companies. But former Bank of Scotland executive Masterton - who owns 94 per cent of the club - has now given up his majority shareholding, saying he hopes the move "will help the club rebuild for the future".
He has faced supporter protests after taking the 128-year-club club to the brink of disaster.
Masterton said: "For those of us who love this club, anything which can be done to facilitate its future survival must be done. I have given my life to DAFC over the last few years and I hope that this move is one of many actions which need to be done swiftly to allow Bryan Jackson to more effectively do his job as the administrator.
"I appreciate that the fans will also be doing their best for the club and hope that we can all work together to ensure DAFC is still around for another 128 years."
Jackson - working for accountants BDO - added: "I am grateful to Mr Masterton for handing over his shares.
"This will make the process of administration considerably easier and this action, along with the decision by various supporters and business organisations to unite behind the club in the Pars United group, gives me some hope that we can have a positive outcome from the administration process.
"I would echo Mr Masterton and Pars United in encouraging all fans, and the wider community, to get behind the club in any way that they can."
Source: PA
Source: PA