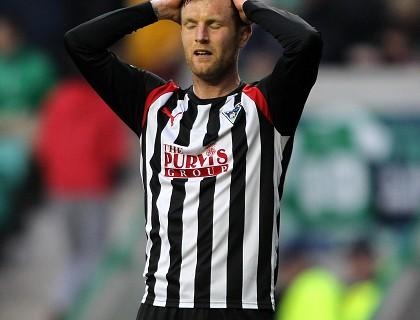 Morris set to play for Pars

Dunfermline defender Callum Morris is expected to overcome a hamstring strain to play against Falkirk the day after the cash-strapped Pars applied to go into administration.

Despite the uncertainty facing the club's future, the East End Park players will be asked to deliver a positive result.

Assistant manager Gerry McCabe said: "We are hoping that the players can go out and find a way to create some good news for everyone connected with Dunfermline.

"We haven't beaten Falkirk at all this season and when you consider they are our local rivals and everything else that has gone on, this would be a great day to get a win.

"The fact that it is a local derby will galvanise everyone at the club as we look for the win."

Falkirk will have Graham Bowman in goal for a second game running.

Bowman is covering for Michael McGovern as he is on international duty with Northern Ireland.

Scotland Under-21 defender Kieran Duffie is set to return after his stint with the national youngsters, with everyone else available to interim manager Alex Smith.

The Bairns are looking to bounce back from a disappointing 2-0 defeat to Hamilton at the weekend, with Smith saying: "This is a great game to have so soon after the Hamilton disappointment as there is no motivation required for it as it is always a passionate game.

"We didn't create anything on Saturday but we have done well against Dunfermline all season and there is no reason to stop that good record now."

Source: PA
Source: PA