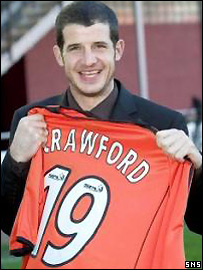 The scene seconds before Stevie realized that it wasn't a wind up!

It's not likely something that you would hear in every day speech, but the name 'Dundee' brings a smile to my – and no doubt many a Pars fans – face nowadays!


Well apart from the fact that the city of Dundee seems like Paradise compared to my last two outings with the Pars – i.e. Weedgieland and Methil – the Pars have enjoyed a near perfect record against the Dundee sides this season and going into a six-pointer against a Dundee, that's bound to create a certain degree of confidence. In four games against Dundee and Dundee Utd respectively, the Pars have won three and drawn one – a somewhat unusually decent record in what has been an otherwise depressing campaign.


With the term 'relegation battle' truly beginning to become a drastic reality for both the Pars and Dundee Utd, few can argue that Saturday's game represents a six-pointer for all parties concerned. A six-pointer that the Pars go into with, yet again, a severely depleted squad. Discounting the long-term absentees – Shields, Donnelly and Derek Young – and bearing in the mind the fact that Irish left-back Ritchie Byrne could be set for a saunter up north to Pittodrie in the coming days/weeks, the fitness of short-term injury victims Scott Wilson, Aaron Labonte, Lee Makel and Billy Mehmet seems to be slightly harder to call in terms of Saturday's encounter with the Arabs – although Billy Mehmet is rated highly doubtful to take part in the proceedings. Should this injury situation not change by the time of Saturday's fixture, then the starting eleven should be unchanged from Tuesday night's comfortable win over Jim Moffat's East Fife team, such is the lack of room for maneuver within the Pars injury-ravaged squad.

After Tuesday night's comfortable 3-1 win over the Third Division side, it could be fair to say that the Pars may enter Saturday's game up against Ian McCall's side with a certain degree of confidence. Where the Pars first-half performance wasn't spectacular – far from it in fact – the second forty-five represented a much more accomplished display by the Pars, one in which three or four more decent chances could, and should, have been converted. Tearing through the East Fife defence like a knife through hot butter – or through a 'peh' (just so you's Dundee gadges can understand!) – the Pars players, particular the midfield and attack, grew in confidence as the game wore on, with many players far more confident in their own ability to test Scott Morrison – the Third Division side's only half-decent player – in the East Fife goal. Although it has to be said that Tuesday night's performance fell far short of what this Pars team is capable of – especially up against one of Scotland's poorest sides – there were, admittedly, a few positives to take from the game with Jesper Christiansen turning in a very encouraging performance up-front aswell as Noel Hunt looking like he has the bit of confidence back, something which the cocky Irishman seems to have been missing since his recent injury worries. More of the same from the front two on Saturday should cause an error-strewn Dundee Utd defence with many a problem.


With the Tannadice club clearly experiencing problems this season and, in the process, trying to buy their way out of trouble – reminds you of Blackburn in the Premiership a few years ago and look what happened to them…£4m for Christian Dailly anyone?! – this Saturday could well prove to be a defining moment for both teams, namely, win – hope, lose – oh sh*te! Although al, of this talk of relegation for either team really does appear to be futile such is the downright guffness of Dundee and Livingston these days!


Oh…just a couple of things before we take to the field on Saturday; firstly a message to Greig Ross, clatter that wee ginger numpty Barry Robson in the first minute and he'll no bother you again, and to big Andy Skerla, not that I don't think of the guy as a Pars legend – because he undoubtedly is – but as you mark Stevie Crawford off the pitch just make sure that you give the lad a good old East End Park welcome home!!!