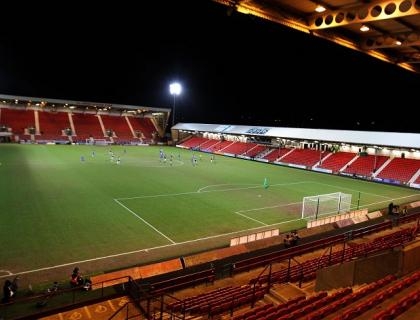 The Scottish Football League enforced the immediate points deduction following a board meeting. The penalty puts the Irn-Bru First Division side into ninth place, below Cowdenbeath in the relegation play-off spot.
The SFL also imposed a transfer embargo which prohibits the club signing players aged over 21 until they come out of administration. Dunfermline will also be subject to a further 10-point penalty and be required to pay a £150,000 guarantee if they do not secure a Company Voluntary Arrangement by the start of next season.
A statement from the league read: "The Scottish Football League regrets the current situation that Dunfermline Athletic FC finds itself in. We are fully aware of the impact this situation has had on all concerned, especially players, staff and fans of the club.
"The SFL has a duty to protect the integrity and on-going smooth-running of the league and therefore following a thorough process, the SFL board has decided that Dunfermline Athletic Football Club Limited is guilty of conduct contrary to league rules, the interests of the league and its member clubs."
The statement finished: "In the face of current challenges, our ultimate aim is to ensure that clubs survive and communities continue to have a local team to support."
Dunfermline have the right of appeal but their punishment is more lenient than recent penalties issued for the same offence.
Dundee were deducted 25 points after going into administration for the second time in October 2010, while Gretna and Livingston were previously demoted two divisions during the summer break. Dunfermline are now eight points above bottom club Airdrie and two behind Cowdenbeath on 27 points, with five games to go until the end of the season.
There is no relegation from the First Division if reconstruction plans are voted in, but the Scottish Premier League looks unlikely to secure the 11-1 majority needed to send the plans to the SFL clubs for approval.
Seven first-team players were made redundant after Dunfermline went into interim administration two weeks ago in a bid to avert a winding-up order over a £134,000 tax bill.
Source: PA
Source: PA