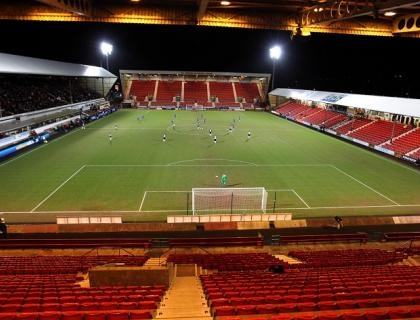 Director of football Jim Leishman revealed some fans had put up money to appoint an administrator in a bid to avoid liquidation. The Irn-Bru First Division club had been presented with a winding-up order over a ?134,000 tax bill, which was due to be paid on Tuesday.
After talking to playing and coaching staff along with representatives of players union PFA Scotland, Leishman said: "There is a group of Dunfermline Athletic supporters who have underwritten the administrator's fees, which is great. So we are back in the game.
"It was either liquidation where you are done and dusted, and you have nothing. But we are giving it a chance. We will be speaking to the administrator, if that gets the go ahead we will be speaking to him."
Dunfermline have approached Bryan Jackson of PKF to conduct the administration process, but the appointment will need to be approved at the Court of Session in conjunction with Her Majesty's Revenue and Customs. Jackson's previous tasks have included similar roles at Clyde, Clydebank, Motherwell, Dundee and Portsmouth.
PFA Scotland chief executive Fraser Wishart welcomed the move as it averted the "calamitous" prospect of liquidation, for the time being at least.
Wishart added: "At least there is some kind of clarity to the situation and we welcome that. I'm pleased it's Bryan Jackson, somebody I have worked with many times before and who knows the football game inside out.
"We will be looking to have a meeting with Bryan Jackson in early course to work out a good course of action that will hopefully protect all our players' jobs."
Dunfermline manager Jim Jefferies, whose side are due to host Falkirk in a derby match on Wednesday night, could face losing players but compulsory redundancies were avoided after Rangers went into administration last year as players agreed a wage-cut deal.
Wishart said: "One of the good things we have is football regulations and the Scottish Football League has been very strong in the past in supporting players who are made redundant in terms of football debt. I'm sure the players will welcome that support. There is more than one way of dealing with a potential drop in income and a potential drop in outgoings that the club has to get to."
Source: PA
Source: PA