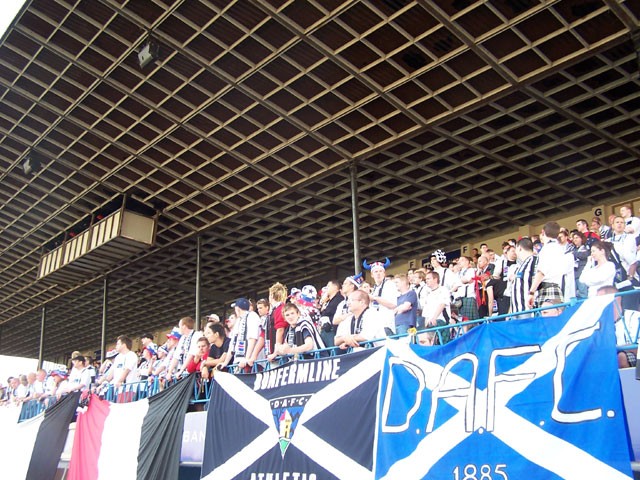 Pars fans had the chance to air their views.

In a night when emotions would undoubtedly run high from start to finish, many Pars fans and the selected panel – including Davie Hay, Billy Kirkwood, Craig Robertson, John Yorkston, Jim Leishman and Finance Director Murray Falconer – took their chance to air their views on the current Pars situation in a passionate and, at times, eloquent manner. Held in East End Park's Kingdom Suite, the second Pars Fans Forum of the season proved an entertaining and constructive evening for all involved as opinion and debate – concerning topics including the team's current form, the youth system, rumour mongering at the club, potential signing targets and much, much more – raged for more than three hours.


Kicked off by one of the fans in a passionate and direct tirade on certain figures and actions within the club, the forum got off to a heated start with Jim Leishman – the evening's host – in particular furiously denying any involvement in the removal of the 'two Jimmies' – and consequently the arrival of Davie, Billy and Paul –at the Pars. Leishman, visibly angered by the insinuation that Jimmy Calderwood left because he had arrived at the club, answered:


"I am totally amazed and flabbergasted by that statement! Jimmy Calderwood got nothing but assistance from me when he was here. If you think that Jimmy Calderwood left because of me then I can't accept that! Jimmy Calderwood left on his own behalf because, in his words, Aberdeen were 'a bigger club'. It had absolutely nothing to do with Jim Leishman because Jim Leishman thinks there is no club bigger than Dunfermline! If Jimmy Calderwood can't handle Jim Leishman then he's a sorry lad! I am not accepting Jimmy Calderwood left this club because of Jim Leishman!"


Chairman John Yorkston added weight to Jim's claims saying that "Jim had absolutely no part in the footballing side of things when the two Jimmies were in charge". Yorkston went on to say:


"The two Jimmies left, we needed a new manager. We waited a while, we saw the applications, and we brought folk in from down south an even abroad. Jim Leishman had no part in the interviewing process. We felt Davie was the best at the job and the response we got at the times from fans was we had a good steady pair of hands to take Dunfermline on."


When asked about whether or not Craig Brewster or Sandy Clark – both at the club at the time – were considered for the job, the Chairman replied:


"We mentioned Brewster but at the time we felt he hadn't done his coaching badges and was possibly one for the future. At the time we wanted a manager with a good track record. We feel it is too big a club to take on someone without a track record; for example John Barnes at Celtic. Sandy Clark was interviewed but I must say that when I was at Nipper's (Scott Thomson) wedding a number of players came up to me and said if he got the job they would want to leave."


When quizzed about the team's lack of passion and why they did not appear to be playing for the management team, Davie Hay – often criticized for his apparent monotonous approach to management – spoke with a tremendous degree of passion and spirit when saying:


"It may not matter what I say because results have not been going well and that (Saturday v East Fife) was a horrendous result. We started the season and pre-season had not been too bad but we had identified and were striving to fix the striking area which Stevie Crawford, and more recently, Craig Brewster had left. In the first game against Dundee Utd we played reasonably well, mad a few chances didn't take them but then what I've had to suffer from is the exit from Europe. Over there we were lucky to get it back to 2-2 and we should have won the game at Perth, we made a few chances and latterly a bit of bad defending and dodgy referee decisions cost us."


When Davie was then accused of making excuses by blaming the referee, the manager replied:


"I'm not blaming the referee! We should have won the game by then and through that we've suffered. There's been some reasonable performances and some horrendous performances. You are saying that the players are unhappy, and I've probably some idea that you mean some of the younger ones, and were insinuating that Billy Kirkwood was saying something to these players. I'd like to know what you are all saying because we've all addressed this problem a way back and when the players were questioned not one said anything. It was addressed by Jim Leishman and me about a month into the season. It was so-called things said to a certain player and there was absolutely no problem with that player!"


"So with regards to what you're hearing and where you are hearing it from you have to be careful what assumption you come to. Jimmy Calderwood did exceptionally well before, maybe in slightly better circumstances and you have to understand that the financial side of things have dropped. There is a difference in how I can manage this club and maybe we have to go back the way before we can go forward. But in regards to the players not trying, I've spoken to the players individually and collectively and asked if there is any problem. Maybe some of the younger players are unhappy that they are not getting a game. I know full well how to treat players and how to get the best out of them, it hasn't worked so far at Dunfermline but maybe it might. I think there is an element of rumour-mongering about this place and you have to be careful with rumours and tales."


Davie was then asked about the decision to let Craig Brewster join Inverness Caley as manager, and how, if at all, that would aid the Pars financially in any quest to bring in a new striker:


"Craig is a gentleman and a first-class professional and we couldn't refuse him this opportunity. £40k for a player at that stage of his career is good business because who knows what might have happened in the summer in terms of a new contract. There were games where I was keeping him on for the full ninety minutes and he was dying on his legs but that was dictated by results. There was absolutely no financial pressure to sell Brewster but we felt for what he did in his short time at the club, we couldn't refuse him this opportunity."


"The sale of Craig Brewster does save a bit of money as does releasing Thomas Butler and Stephen Bradley, but with the wages that they were on it only frees up a little bit of cash. Butler was on £600 a week and Bradley was on £200 a week and so it doesn't free up an awful lot. With Butler I thought he teased without producing, with the final product letting him down. He seemed to lack a bit of pace."


The manager and his assistant Billy Kirkwood then went on to dismiss rumours that the training regime at the club is fitness/running based and based on a policy of shouting and bullying. With Davie stating "I can assure you that is not the case", the gaffer and Kirkwood – who along with coach Paul Hegarty was offered £5k a year more to stay at Livingston – then went on to invite the fans to witness the training sessions, Kirkwood saying:


"When we first came to the club one of the guys couldn't run. We had to stop training because he couldn't run and that player got released because he wasn't up to it. I'm sorry if I have to shout but we are trying to install discipline in the team. The players come in in the morning, they've got their flash houses and they've got their flash cars and we want them to work. I know how passionate you (the fans) are and I am just as passionate. I know you are desperate for success, so are we. I was shouti9ng at the players on Saturday because I was watching it, I know how s***e it was! Anyone in this room or any fan can come along to watch the training from to . The players have told me it is much more enjoyable than it was last year. You are very welcome to come along and watch the first team train and to watch the youngsters train."


"Going back to the point about Lee Makel, Lee will bring a bit of competition to the midfield because, in my opinion, Dunfermline's midfield is not good enough"


With Kirkwood then reminded of the fact that this was the same midfield that had brought the Pars success last season, he replied:


"You had a good season last year. You were fourth in the league and in the cup final but to me that is not a successful season. A successful season is winning something. Let's not get carried away with winning nothing."


Jim Leishman then went on to talk about the club's youth policy, citing a much-needed improvement in the system in recent months. Leishman spoke of how a 'team' of two scouts – or Talent Identification Officer as they are now called – with a remit to cover Fife only three months ago had been turned into five scouts with a remit to cover Edinburgh, Lanarkshire, Fife, Perth and other areas. Leishman went on to describe the lack of a youth policy in recent years, stating how local schools and boys clubs have in the past refused to speak or do business with the Pars, and how a number of the club's more promising players – Pat Scullion, Graeme Port, Steven Vinters, Billy Mehmet and Aaron Labonte – had not come through the system at the Pars and had been picked up at age 19/20 from other clubs. Jim also cited Craig Robertson's – who also spoke at length about the situation – role in improving the club's youth policy, with the majority of the panelists also describing young defender Greig Ross as a bright spark in recent times.


The question of player personnel also popped up frequently throughout the evening, with possible out-going and incoming players discussed. Davie Hay and Jim Leishman spoke of Aberdeen and Jimmy Calderwood's bids – or rather lack of them – for Barry Nicholson and Ritchie Byrne, stating that no official bid had been made for either player. On the subject of Ritchie Byrne and his earlier refusal to sign a new contract, Leishman stated how the big Irishman "spoke with me on Friday and wants to sign a new contract." The management team also confirmed the arrival of Macedonian trialist Georgi Hristov and a Finnish internationalist who will join later this week after suffering from flu. Hay also confirmed that the club had enquired about the availability of Hearts striker Ramon Pereira.


Finance Director Murray Falconer also faced the questions as fans enquired about the state of the club and what, if any, funds that manager Davie Hay has to add to and improve his squad:


"Davie has not had money because when we went into financial difficulty, the contracts for the top players at the club were not ripped up. These are contracts are admittedly over the normal market value. The bonus structure, which was in place under Jimmy Calderwood, was part of the financial problems and was pretty generous, and it is now not at all."


Jim Leishman then went onto talk about the bonus structure at the club, explaining the vast changes in the system, most of which were brought on by the club's financial difficulties. He described the bonuses at the club under Jimmy Calderwood as "incredible" and explained how these were completely taken away when the financial difficulties kicked in. He then went on to make a case for how far the club had come in the sense that the club– for the last two games at least – now have a bonus structure once again, albeit a much smaller incentive than previously. Leishman then described how much the club, and consequently Davie Hay, had suffered due to financial problems, explaining that £17k had been cut from the weekly playing budget.


Murray Falconer was then asked whether or not the club would reach the annual financial expectations should the club fail to reach the aforementioned targets of a top six place, Q/Finals of the two cups, and first round in the UEFA Cup proper:


"Yes we will be OK if we don't meet those targets. It would be stupid to go planning and then not expect all eventualities."


Asked if we would avoid administration should these targets not be met, Falconer replied:


"We would not have gone through the pain of all the money we have paid to now go into administration!"


Many other topics were discussed on the night, with the 'pitch', a ten-year tribute to Norrie McCathie, the strip – of which there will be a new STRIPED version of next season! – and the winter break were prominent discussion topics. All in all a very interesting and constructive night was – I'd imagine – had by all who attended. Passion and commitment to the Pars cause was apparent throughout the evening, with fans and managers/coaches/chairman alike speaking with a great amount of passion and love for the club. In particular, Davie Hay and Billy Kirkwood – who have come in for criticism from a number of fans – showed a great amount of courage to face any criticism and both spoke very directly and passionately about the club's season so far, admitting they had made mistakes along the way but also, without wishing to make excuses for themselves, detailed the problems they have due to injury and other factors.


Whether you agree or disagree with any of the panelists role or performance at the club, one thing is for sure; every single person in the Kingdom Suite last night undoubtedly have the club's best interests at heart!